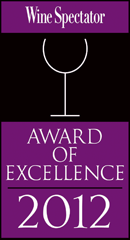 2012 Best of - Readers' Choice, Turlock Journal:
- Service
- Dinner
- Seafood Restaurant
- Friday Night Date
- Romantic Restaurant
Voted Best Restaurant
2005 - 2011
for lunch and dinner by the Turlock Journal
CULINARY CLASH OF THE CHAMPIONS
Bistro 234 would like to announce Executive Chef LeRoy Walker and his team Michael Estacio & Jennifer Bethel, are officially the winners of the DMC CULINARY CLASH OF THE CHAMPIONS which took place in Modesto. This competition, comprised of local top chefs, was a night to remember - full of passion, delicious food, and a wonderful crowd! We are so proud of our award-winning team.
Serving Lunch and Dinner Tuesday-Saturday 11am-10pm
Or call us directly at (209) 668-4234
Purchasing a gift card can be easy and convenient! Simply email us with the following information: name, mailing address, phone number and how much you would like to gift card to be for. We will contact you to arrange payment and you'll receive your gift card in the mail.
Grilled Marinated Artichoke
accompanied by lemon tarragon aioli
Frisee and Soft Fried Egg Salad
with pancetta, cherry tomatoes, and housemade pesto ranch
Lobster Risotto with spring peas
Grilled Alaskan Halibut
drizzled with roasted red pepper sauce
Braised Lamb Shanks